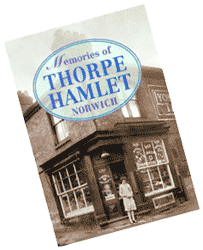 Short extracts of some of the interesting local
memories in the book can be found below.
~~~~~~~~~~~~~~~~~~~~~~~~~~~~~~~~~~~~~~~
'Memories of Thorpe Hamlet Norwich'
Published June 2004
Memories of Thorpe Hamlet, Norwich, Editor Mary Ash, Paperback: 147 pages
ISBN-10: 1903923026 , ISBN-13: 978-1903923023
The book on sale in the local books section at Jarrold's in Norwich City Centre. To buy by phone from Jarrold's call 01603 697150 and ask to speak to the Concierge service.

Amazon also have secondhand copies
The book contains over 200 photographs and the memories of over 70 contributors spanning virtually the whole of the last century. Demand has been high and both the original print run of 1000 copies and a second print run have sold out. The book has been reprinted and is available from Jarrold's, and it is also available on loan at the Plumstead Road Library.
What became of the material that didn't make it into the book?
We had a huge collection of memories to draw on and for one reason or another many of them did not end up in the book. A number of people have asked what has happened to the material that didn't make it. A complete set of photocopies of all the material, all the notes on the photographs along with any photographs that their owners did not want returned have been properly listed, archived and presented to the the Plumstead Road Library where they are available on request. You will also find many personal memories submitted to the website after the book was completed on the Personal memories page
~~~~~~~~~~~~~~~~~~~~~~~~~~~~~~~~~~~~~~~
A taste of the memories to be found in the book.
The first is from George Harper...
I can still picture every part of 'the pit', as we called what is now Valley Drive Estate. It was accessible from the pit gates on Hilary Avenue or Aldryche Road or Knox Close. My friends and I spent so much time over there, but we were never frightened of anything there or ever got into any fighting. It was rare to see adults as they preferred the more picturesque Mousehold, and nobody jogged then or seemed to take their dogs for walks, so it was our domain for a few pre-teenage years. There wasn't much litter about, but broken glass never got cleared up so it was no good for bikes. Looking back, it was fairly dangerous as some of the cliffs had a thirty-foot drop and they weren't very stable. Parts of it were overgrown like a jungle, but with trails through if you knew them, and there were tall willows we called 'neck breakers' because you could make them swing wildly when you climbed them. There were cliffs to climb up or down and spent cartridges from the firing range near the Prison to find. There was not much wild life as the rabbits had myxomatosis, although there were plenty of butterflies and birds. Towards Heartsease Lane was Alfie Carter's pig farm, and residents occasionally dig up pig skeletons now. Zac's Restaurant was then a cafe where you could get a bag of crisps, or if we were thirsty and couldn't afford a bottle of drink, there was a water fountain.
Gordon Dickie remembers...
The grandstand was still at The Nest and troops used it for training, climbing ropes to get into the windows etc – we used to watch them. At some point, maybe at the end of the war, the old football ground was used to store coal or coke. I think there were also some shelters built there during the war. We used to use the chalk caves at the back of Thompson's for a shelter, and we had a bunk there in which we could sleep. We used to go along our back ways and the back ways of houses in Rosary Road, past the bowling green and to the shelter. Of course, I thought it a great adventure, being quite young.
On Rosary Road was Thompson's Tin and Metal Works. Lots of local people worked there. Further along, City's football ground, The Nest. PC Scott was the local policeman. Nearby, in the background, was a disused deep cave, which was used in the war for an air raid shelter. Bunks were put up for regular nightly use.
This is from Mr J Read's memories of working at the Gasworks:
'Prior to 1965, if a child contracted whooping cough, the doctor would almost certainly instruct the mother to take the child to the Bishops Bridge gasworks to contact the purifier foreman. Once there, the child would be shown large heaps of iron oxide. He would then be told to play on these heaps for a time, probably along with other similarly afflicted children, as in those days it was quite a common complaint'.
It seems that a few days gambolling on the foul-smelling heaps did the trick. Even though the oxide was heavily stained with prussian blue, which our modern health experts get hot under the collar about, it seems in this case progress is backwards! Unfortunately the Blue Mountains of Weeds Square are no more, so we are stuck with our modern cures.
This extract is from Joyce Carey:

'
On Camp Road there was in the cottages, Billy Yallop and his son. Billy senior was a chimney sweep. They had a horse and cart and resembled Steptoe and son. Next to them was a grey-haired old lady Mrs Pleasants who was the 'layer out' of the deceased in the area. What about Albert the barber? My mother refused to let her beloved grandson be taken there when he visited because of his rather strong language (Albert's I mean!)'.
C. John Wood writes...
I was born at 1a Bishopbridge Road in 1925; it was a two-bedroom house with gas lighting in two rooms. The house was owned by the Gas Company. We lived at the bottom of Gas Hill where there were four pubs without a house between them. Behind the Bishopbridge Tavern was Ramsey's the skin merchants, which was very smelly, as was the Gas Works. There were rats at the skin merchants; you could see them swimming when you looked over the bridge. Then there was Robinson's where we often got an old tyre which we used to hit with a stick. I remember on one occasion a gentleman called Tommy Laws who quite often stood at the bottom of Gas Hill. This poor gentleman was a cripple, and one lad took a tyre up Gas Hill and sent it down; it hit poor Tommy, but fortunately he wasn't seriously hurt.
Frank Goodson Remembers:
George Carey owned Carey's Meadow on Thorpe Road, and this was another good playground; it was flooded in winter for ice-skating, but I never had any skates. It was also used for greyhound racing, and for exercising race horses, but my friends and I enjoyed exploring, picking blackberries and many other boyish pranks. Mr Carey was a dairy farmer and milkman; he lived in a cottage which is now the site of the pumping Station. The new part of Rosary Cemetery was once a grazing ground for the Cavalry horses, and Mr Bullard from Riverside would train his horses there.
Were they really the best days of our life?
In 1853, shortly after Thorpe Hamlet became a separate parish, the Thorpe Hamlet National Schools were built on the river towpath which later became Riverside Road, backing onto the new St Matthew's Church and Church Hall. A boys' school, a girls' school and an infants' section were all squeezed into rather small premises. School inspectors mentioned 'overcrowding and inconvenience' for several years before the new Board Schools opened in St Leonard's Road to replace them. Isaac Bugg Coaks, the local solicitor sold land to the School Board for the new schools, which were completed in 1887. They accommodated 1086 pupils, still divided into girls', boys' and infants' sections; these are the schools remembered by many older Hamleteers, and they are part of the area's distinctive individuality. [Leaver's report] More than half a century later, the schools were badly damaged by air raids in 1943, but continued with 'temporary huts' for another forty years or so (TH068).
The large new Pilling Park Estate spread over the east side of Thorpe Hamlet in the 1930s, and Norfolk Education Committee needed to reorganise local elementary education to provide places for the many children of the estate. Three new schools were built - the Crome and Stuart (boys' and girls') schools on Telegraph Lane, and the Infants' School in Wellesley Avenue. The two Telegraph Lane schools became Secondary Moderns after the 1944 Education Act, and a single school in 1964. Boys and girls who passed the new 'eleven-plus' exam had to travel either to the City of Norwich Boys' Grammar, or the Blyth Girls' Grammar Schools. In 1954, Wolfe Road Junior Mixed School was opened. All these schools are remembered with mixed feelings by the people of Thorpe Hamlet.
Share Your Memories
Visit the feedback page and see if you can help with queries from people living locally and across the world, perhaps you have some interesting recollections you can share?