The most popular theme chosen by the council in this area are the names of campaigns and battles many of them involving the Royal Norfolk Regiment who had their barracks on Mousehold.

If you know the story of your own road please send it to us at the address below.

For example Towards the end of the century, the 'Sisters Roads' were built on land acquired by Mr Bugg Coaks from the Harvey estate and named after his daughters, Ethel, Ella, Marion, Florence, Beatrice and Primrose.

There are some much more recently famous people celebrated by our street names. Perhaps you live in or know about one.

The names include generals and admirals, events and places as well as campaigns and battles.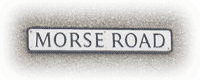 Some are obvious some less so. For example Morse road is not named after the inventor of the Morse code but George Morse the first man to be Mayor and then Lord Mayor of Norwich. He was a Brewer by trade, a director of Stuart & Pattersons and in his spare time a mountaineer of some repute.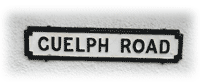 In the book 'Memories of Thorpe Hamlet' you can read about the scandal that surrounded Mr Bugg Coaks and his clients.
Your messages and comments about Hamlet road names...

I used to live in Honey Close which is off Knox Road at the entrance to the prison. It was named after Charles Honey who was a governor of the prison in the early 1950s. I believe he had a son who was governor of Wormwood Scrubs
WT

Can anyone give me an origin for the Name of Cintra road please?
regards Peter Wright
Peter Wright was asking about the origin of the name "Cintra Road". The following might help...
"The Convention of Sintra 1808".
At the start of the Peninsula War (1808 - 1814), with Napoleon, the British landed in Portugal and Sir Arthur Wellesley was the first to engage the French in battle. The engagement was a success and the French sued for an armistice. A Convention was signed at the city of Sintra which has been described as an embarrassment as it allowed the French to leave Portugal with all its arms and any booty they had gained in Portugal. The British even supplied the ships to take the French Army back to France with no reassurance that these soldiers would not return to the fight. Portugal was liberated from the French and with the convention of Sintra there was no further bloodshed.
Cintra Road, as you almost certainly know continues on from Wellesley Avenue South, which was named after Sir Arthur Wellesly.
June Marriage.

Footnote to the enquiry and response to the naming of this Norwich road.

Living as I do, adjacent to Wellesley Avenue South and having an interest in The Peninsular War, I have wondered why the avenue's only tributary was named after the only inglorious event of Sir Arthur's otherwise splendid campaigns in Portugal. The following however shows that he was not responsible for the Cintra Convention.

Sir Arthur had planned for the French attack at Vimiero but reinforcements on both sides persuaded the British War Office that more senior officers should command the imminent battle. Generals Sir Harry Burrard and his superior, Sir Hew Dalrymple, were sent to take over from Wellesley. In the event though, these officers did not disembark before Sir Arthur had won the day, following which the French commander, General Junot, sought an armistice at Cintra as described and indeed the terms described by June Marriage were disgraceful. However, granting such unprecedented generosity to a defeated enemy was the decision of Dalrymple, supported by Burrard, who jointly ordered Wellesley to sign the document, he having been the victorious general. By all accounts he complied very reluctantly.

There was outrage in England and all three generals were recalled to face an official enquiry. All three gave their accounts, Wellesley last and truthfully.

For political reasons which remain obscure, all three were exonerated but Dalrymple and Burrard were never to see active service again and slipped into retirement.

During Sir Arthur's absence Sir John Moore took over command of British forces in the Peninsula and was unfortunately killed at, and his forces evacuated from, Corunna. Later, his reputation unblemished, Sir Arthur returned to Portugal in command and, after comprehensively defeating Marshal Soult at Oporto, eventually drove him and other French forces out of Portugal and Spain, his campaign culminating in Soult's abandoning the city of Toulouse to the now Duke of Wellington, he having been successively ennobled Viscount, Earl, Marquess and Duke and promoted to Field Marshal along the way.

Cintra thus did not end bloodshed in Portugal. There was merely a break in Wellesley's part in the war there.

Barry Egerton